So here I am, the very first post in a brand new blog. Where to start? I should probably start with some sort of an introduction lol.
First and foremost, I'm a wife and stay at home mom to a highly active 3 year old little boy. He keeps me on my toes and has expressed the same love of drawing and painting that I had as a child.
I've been artistic/crafty since I can remember. I think I get most my talent from my mother and my grandmother, both are crafty people. I inherited a huge amount of craft supplies from my grandmother before she passed away. She still continues to be my biggest inspiration.
I really don't have a fav medium I like to work in more than another. I dabble in just about any sort of medium really. If it looks like fun, the ideas start rolling and then I have to try it. But for the most part, I really enjoy drawing, painting and sculpting. I've been known to sew. I'm also teaching myself to knit and crochet.
Just so this isn't all blah blah words, I've added a picture of my first furniture piece that I painted. My hubby and I had just gotten home from my parents house when I saw a cabinet that one of our neighbors had left by the curb. Just that first glimpse I was hooked, the ideas were just rolling in.
So you can imagine the look on my husband's face when at 10pm at night after just getting home I was making him help me lug the thing upstairs into our kitchen. I'm so glad he tolerates my creative mind even if he doesn't understand it half the time lol.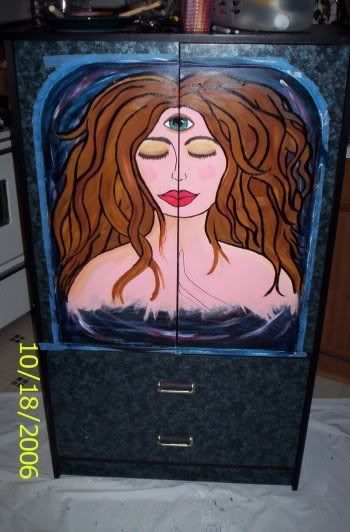 This is my goddess cabinet mid painting. I had originally wanted to paint dragons on the front but obviously the cabinet had another idea in mind. It was a blue/black marble laminent as you can plainly see. So there was a bit of sanding involved to roughen the surface for painting. I had seized my kitchen for a painting area and gated the toddler in the livingroom for obvious reasons lol.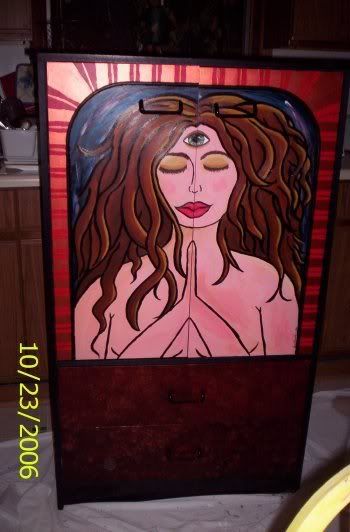 So here is my pride in joy, my Goddess Cabinet, the new home to my many jars of dried herbs. The handles were spray painted black and the drawers where sponge painted with black and copper paint over a red undercoat. I'm really pleased how it turned out for my first painted furniture piece. And it has enough room for all my herbs =)

It took about a week, the image was done as I went (normally I would have drawn it all out first). Acrylic paint and a lot of it, I had to replace my red paint because I ran out lol. I don't think the pictures does this piece any justice, I feel it looks better in person lol.

This piece is only the beginning to my new love of painted furniture. I have another unfinished piece sitting in my bedroom just waiting for inspiration to strike =)