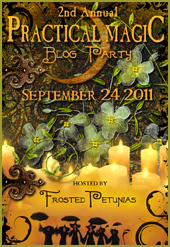 I saw this blog party last year and was intrigued. I wasn't able to join in last year but I enjoyed looking through the various posts for the party that others had created. When I saw that it was time for it again this year, I jumped right on board.
There is no words to describe how much I love the movie (reading the book is on my "to read" list). I fell in love with everything about the movie, especially the house. (Who doesn't wish that house was there's?!)
What struck me the most, and that still pulls at the heart strings, is the friendship and bond between sisters. It's something that I wish I had growing up with my own sister.
photos courtesy Amas Veritas
For my love of Practical Magic and the bond of sisters, I created a piece of digital art inspired by the movie and the bond expressed. May you all find the bond of sisterhood and cherish every bit of it.
Thank you for stopping by! I look forward to visiting all the blog parties!